Vallarta Botanical Gardens is not, at least in my experience, your average Botanical Garden. Having been born and raised in England where visiting formal gardens (both private and public) is simply a way of life and also having lived near to the famous Butchart Gardens in Victoria, Canada I thought I knew what to expect. I was wrong.
A visit to Vallarta Botanical Gardens was on our list of things we wanted to do before leaving Puerto Vallarta so on a lovely sunny day in January we packed up our cameras and jumped on a bus heading south. Luckily when we boarded the bus we had mentioned we were going to the gardens because there is really very little signage on the main road  and we would have easily missed our stop.
Heading down a small hill from the road we found the entrance where we were greeted by very friendly and professional garden staff. They presented us with a map and placed a bright yellow sticker on our shirts in exchange for the $60 pesos entrance fee and also highly recommended we use bug repellent (which they also sell if you forget to bring your own).
Vallarta Botanical Gardens Map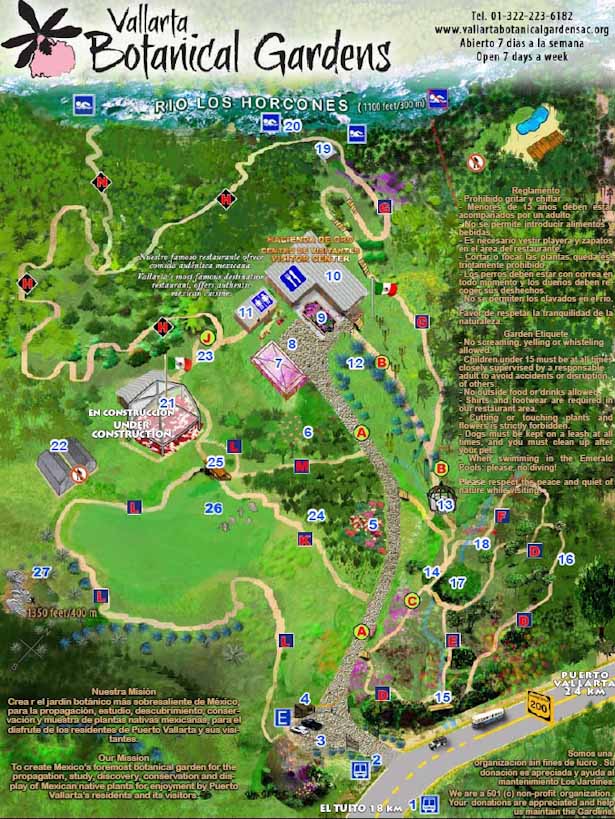 The map shows all of the trails which are listed as Easy, Medium and Difficult and they are also very well sign posted.  Btw if you plan to hike the Medium and Difficult trails I would suggest decent shoes rather than the flip flops I was wearing. As we entered the Vanilla trail it became clear that this was not going to be an easy stroll along neatly paved pathways lined with perfectly pruned brightly flowering plants, well-manicured lawns and shrubs sheared into the shapes of animals. Rather it was to be a trek along hiking trails which weaved through enchanting jungle and native forests, up rugged hills and down rough stone steps leading to clear, cool Emerald Pools calling for a refreshing dip.




Rather than showcasing displays of perfectly manicured flowers and greenery this non profit garden is home only to botanicals native to Mexico and they are free to grow as they would in their own natural environment. In fact Vallarta Botanical's Mission Statement is "To create Mexico´s foremost botanical garden for the propagation, study, discovery, conservation, and display of Mexican native plants for the enjoyment of Puerto Vallarta´s residents and our visitors." They  boast the most complete collection of orchids in the country and work diligently at the micro-propagation of endangered orchid species. Plus they are a sanctuary for, and leader in, the rescue and conservation of the Military Macaw. Jalisco used to be home to hundreds of thousands of these parrots but now due to development and poaching the numbers are as low as a couple of hundred.
After a couple of hours of hiking, a refreshing swim and lungs full of chlorophyll filled air we were ready for some refreshment so we made our way to the Hacienda De Oro. What awaited us here was an unexpected oasis of luxury and comfort. The Hacienda is a three level building housing a restaurant, a small museum, a gift shop and a wonderful sanctuary called The Hall Of Flowers. Here you can relax in an exotic setting complete with chaise lounges surrounded by wispy white netting perfect for reading and watching the multitude of birds and butterflies perform their colorful dance.


Climbing the hand painted mosaic tile stairs we found the renowned restaurant on the top level of the hacienda. We were taken to a lovely table on the outdoor verandah overlooking the hills, jungle and river below and presented with cold glasses of Agua de Jamaica which is my favorite non alcoholic drink here in Mexico. There was colorful glass art and flower baskets hanging from the eaves along with feeders attracting hummingbirds and other winged creatures which entertained us while we ate. Speaking of eating the food and service was outstanding! We ordered fajitas which were the best we've had to date and also a delicious traditional Chismole salsa. The salsa was made at our table using fresh garlic, sea salt, cilantro, lime, onion, roasted pepper and roasted tomato. It's something that we intend to try and duplicate at home…we'll let you know how that works out.
Sadly the day had to come to an end as it was after 5pm and the last bus would be passing about 6pm. Satiated and relaxed we reluctantly tore ourselves away from the lovely verandah and bid farewell to the Vallarta Botanical Gardens. We thoroughly enjoyed our day and are so pleased that we didn't decide to skip this near to last day trip on our list. It would have been a real shame to miss this experience as we certainly Discovered that not all Botanical gardens are created equal.